Studio Delaj - Facials Services
Our facial services include deep cleansing, exfoliation, and massage to leave your skin radiant and rejuvenated. Experience the benefits of our skincare treatments today.
Custom Facials treat, soothe, and correct the skin. By analyzing the skin, we will be able to provide the best treatment. 
Our customized facial is tailored to each individual's circumstances, needs and goals. It starts with a cleanse/steam, skin analysis, customized exfoliation mask, and extractions (as needed), followed by a treatment mask and finishing serums. All theses steps intended to deeply cleanse your face, improve your circulation, exfoliate dead skin cells, extract clogged pores, hydrate, soothe, and help with common skin concerns like aging, dry skin, and acne. For extra relaxation a neck and shoulder massage is given to complement the facial.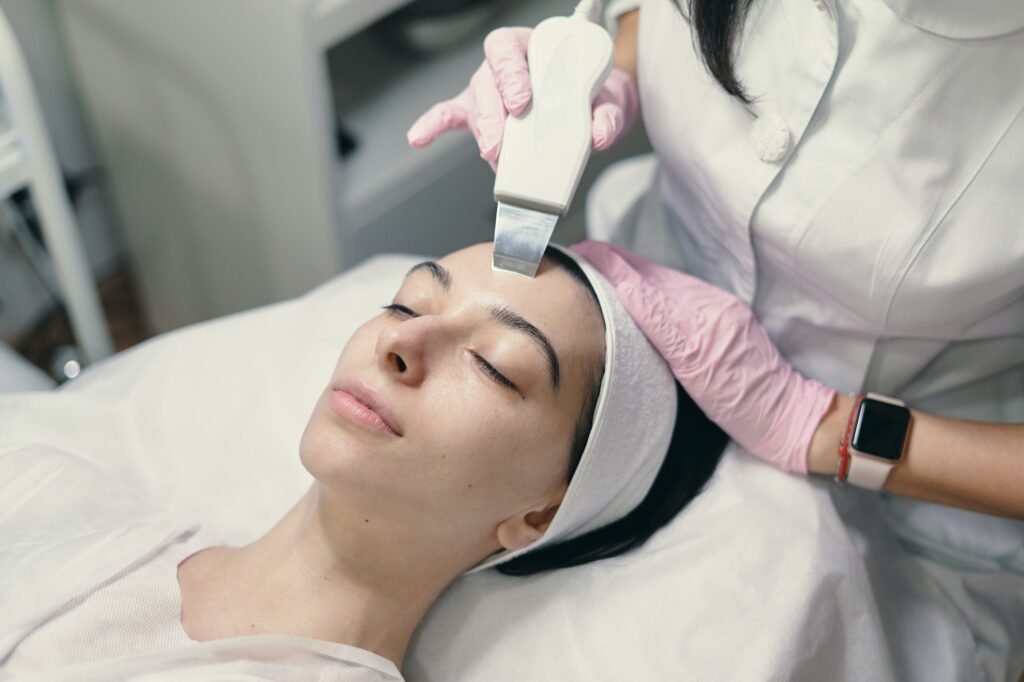 Targets bacteria beneath the skin and tighten enlarged pores to reveal a healthy glow.
Unlimited visits (maximum 1 per day). The package starts on the day of your purchase.
Radio frequency (RF) skin tightening can give you a more youthful appearance without the need for a surgical procedure like a facelift. Heat from a radio frequency device penetrates deep into your skin. It stimulates the production of collagen, elastin and new skin cells.
Contains highly concentrated serums based on your skin concerns.
Alumier peels improve skin texture and firmness.
Clearing dead skin cells reduces fine lines and wrinkles by encouraging the renewal of the skin barrier. The peels can improve skin tone clearing mild pigmentation. Improves acne-prone skin and reduce pore size appearance.
The peels can also thicken the epidermis, increase dermal volume, and stimulate new collagen to rejuvenate the skin.
An alpha hydroxy acid resurfacing peel containing lactic acid to exfoliate dead skin cells, boost cell turnover and stimulate collagen, improving skin texture and tone. This peel leaves skin bright and glowing and is perfect before an event such as a wedding.
With lactic and salicylic acid, radiant 20/10 resurfacing peel contains a powerful combination of them both which improves skin tone and texture by exfoliating dead skin cells and speeding cell turnover. The multipurpose resurfacing peel reduces acne pimples and minimizes the appearance of fine lines and wrinkles, large pores, hyperpigmentation and sun damage.
Back Facial is a purifying treatment performed on your back. Cleansing, exfoliation, and extraction of clogged pores are the main focus of this service.  Back facial is specifically designed to nourish and repair the skin on your back, which will leave you with healthy, hydrated skin.
Hydro-Dermabrasion facials offer all the benefits of traditional crystal or diamond microdermabrasion without irritating sensitive skin.  This facial combines the natural benefits of oxygen and water to exfoliate and hydrate your skin at the same time. As the skin is exfoliated, dead skin cells are swept away to reveal a layer of skin that is smoother, brighter, and cleaner. The pressurized stream of water or water-based solution instantly refreshes and rejuvenates.  Beyond just exfoliating the skin, Hydro-Dermabrasion increases blood circulation, which in turn supplies more oxygen to the skin. By increasing oxygen supply, you also increase moisture in the skin as well as fade away wrinkles and other physical signs of aging.
Diamond Microdermabrasion is a non-chemical, non-invasive procedure that uses diamond tips to exfoliate the surface of the skin, while the power of vacuum suction removes dead skin cells and debris. You may even notice younger, healthier-looking skin after your first treatment. Microdermabrasion also stimulates the production of an underlying layer of skin cells with higher levels of collagen and elastin, which further improves your skin's appearance. This diamond dermabrasion tips and wands set is suitable for all skin types and will not cause any scarring, color changes, or discomfort.
$230 (nao sei se faltou esse aqui na lista que lhe enviamos mas precisa ser acrescentado tbm junto ao hydro-dermabrasion)
This treatment offers a solution for all skin types and concerns.  Getting a vajacial regularly is a great way to maintain your results and prevent significant darkening from forming again. New pigmentation is lighter and very easy to remove so your results aren't difficult to maintain.
Make An Appointment  Today